Designs for Health's high potency, shelf stable, broad spectrum probiotics fully meet your patients' diverse needs
Probiomed™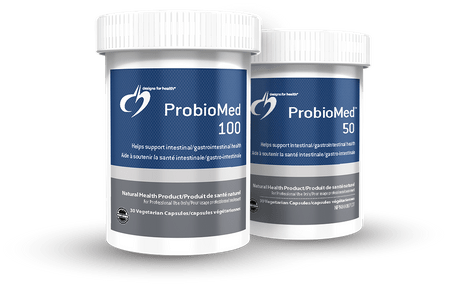 A comprehensive range of high potency formulations to address the most common challenges in choosing the right probiotic
The Full Story
ProbioMed™ is a range of evidence-based formulations containing 10 of the most well-researched strains offered at clinically relevant dosages.*
Based on extensive review of scientific research, we've carefully selected these probiotic strains to ensure superior viability in low pH conditions and in the presence of bile salts, with proven adherence to human epithelial and mucosal surfaces, while not causing antibiotic resistance.*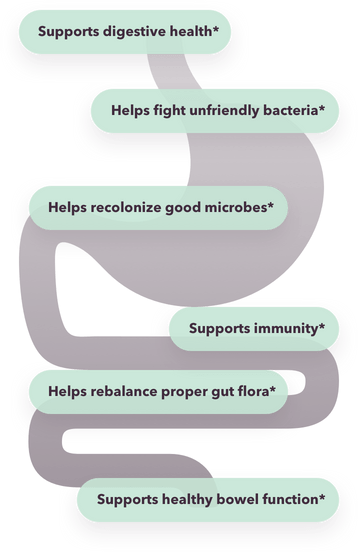 Based on extensive review of scientific research, we've carefully selected these probiotic strains to ensure superior viability in low pH conditions and in the presence of bile salts, with proven adherence to human epithelial and mucosal surfaces, while not causing antibiotic resistance.*
Formulated to Thrive
Probiotic strains have been chosen for their ability to survive the harsh journey through the intestines, adhere to the gut, and resist gastric acids and bile salts. These strains are further protected with shelf-stable technology to ensure they are alive and effective after packaging and storage.
Tap + to Learn
Delivery
Packaging Technology
Our new, state-of-the-art, innovative package lining protects probiotics from damaging exposure to moisture, oxygen, and light to extend shelf life while eliminating the need for refrigeration.
Capsule Technology
Our delayed release veggie capsule technology offers further protection to ensure survivability.
Transparency
We disclose the most vital information you need to have confidence in the efficacy of ProbioMed™ formulations, including:
Strain Specificity
Listing each specific strain of each probiotic species
Strain Amounts
CFU counts per strain
CFU Overage
Excess CFU added for each strain to meet label claim up to 2 years
Survivability
Many commercial probiotics do not remain alive and viable through the digestive process, rendering them ineffective at arriving intact and colonizing the lower GI tract.
ProbioMed™ Species Strains
have been carefully selected for their ability to adhere to the intestinal wall, colonize and persist.
Full Range Probiotic
ProbioMed™ is a range of high potency, dairy free probiotic formulations available in three clinically relevant dosages, allowing you to target a variety of GI environments.
Every strain & CFU count is disclosed and validated by research
The Full Picture
What makes ProbioMed™ a better probiotic
10 of the most fully researched probiotic strains for optimal immune and digestive health, while not containing antibiotic resistant genes
Full disclosure of individual strains and CFU counts gives you the confidence in knowing exactly what you're getting in ProbioMed™
Full delivery with high tolerance and resistance to stomach acid and bile means the probiotics can flourish and thrive
Full staying power with adherence to intestinal walls and greater retention, where the strains can colonize and persist
Full range of clinically relevant dosages in high CFU counts allow you to target a range of GI environments
Shelf-stable packaging solutions, overages in CFU and delayed release capsules fully support stability and integrity during storage and internal delivery
*These statements have not been evaluated by the Food and Drug Administration. This product is not intended to diagnose, treat, cure or prevent any disease.